Chibi Base 3D Models
Please check my Trello for current waitlist length and status!
Questions? Check my FAQ!
Info
I will edit my low-poly chibi model base to match your character! Models will be fully textured and rigged. Chibi models will always be cel shaded, but I will include glow/lighting and other effects if applicable! Please see my 3D gallery for more examples of my work, including turnarounds.
Basic Character Model: $50
Includes:
One still render of the model (.png, ~1400x1400)
One turnaround animation (.gif, ~900x900)
Model file (+$1):
Model file for Blender 2.8, fully textured and rigged (.blend)
All texture files (.png)
All material files (.png/.jpg)
Texture files (+$1):
Layer files for all textures (.psd)
I do not offer jaw rigs, semi-realistic materials, or complex hair for chibi models. Characters may have simplified markings or anatomy to match the style! If you're interested in a more detailed model, please see my custom model commissions.
Details
My chibi base models work a little differently from my custom models! Because I work off of a base, most addons to the base - ears, tails, props, etc. - can be re-used. As long as your character can be made using reusable assets, there is no complexity charge. Not even for asymmetry or complex markings!
If your character has unique details that I can't edit from existing assets (see the catalog for examples), or that I can't reasonably reuse if I make them from scratch, they will be $5 for each unique detail! This includes ears, tails, clothing/hair that isn't flush to the body, etc.
Props
Simple props are free, as long as they're already listed in the catalog! If you'd like me to make a new prop that isn't listed (or heavily edit/retexture an existing one), it will be $5. That prop will then be added to the catalog for others to use!
If you want to commission a personal or particularly complex prop, it starts at $10 (price can increase with complexity). These props won't be added to the catalog, and I won't use them in any future models.
Animation
Simple animation: $10 Idle animations like bouncing, blinking, waving
Complex animation: $20+ Running, jumping, or longer animations
Catalog
This is a collection of all existing shapes and props for chibi models. If your character can be made with a combination of these (with minor edits), then there is no complexity charge!
Body
All body/arm sizes and lengths are mix and match! Only the medium body type is modeled at the moment, but large and small are available as well. If you would like a character with more/fewer limbs (i.e. bugs, snakes), it will be no extra charge! Contact me for a sketch example!
Large
Medium
Small
Long limbs
Short limbs
Head
Ears - pointy
Fluff - pointy
Nose - round
Snout - pointy
Whiskers
Arms
Claws
Tail
Fluffy
Kitty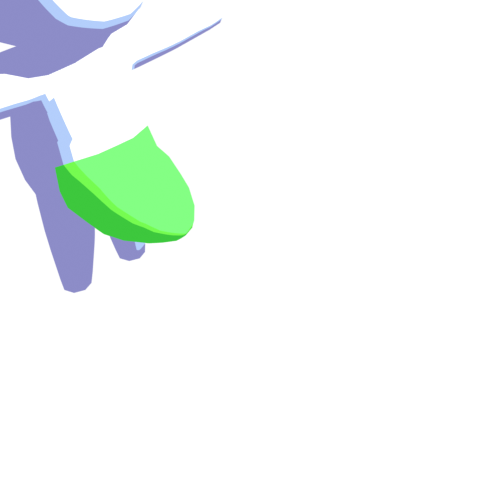 Slug
Legs
Boots
Props
Flip Console
Parchment